If you've been feeling increasingly stressed lately, then check out these instantly relaxing GIFs and see for yourself why researchers recommend them.
Whether it is due to over-scheduling your days, taking on too many responsibilities, or just plain emotional turmoil, being stressed out is something you'd probably like to experience less often. So how do we do that without taking a vacation to Bali, or immersing ourselves in a Jacuzzi filled with unicorn tears?
Well, there are ways to reduce your stress levels almost instantly- and there is no need to book a ticket, or find a mythical creature.
If you're wondering how GIFs could possibly help someone to relax, it's due to a few different aspects involving imagery, specific colours, and abdominal breathing techniques.
One study from the Journal of Behavioral Medicine discovered that participants' blood pressure was significantly reduced when they combined stress management techniques with relaxation imagery, or even when they just used imagery alone.
Another study, published in the journal Europe PubMed Central, researched how effective the use of imagery was on breast cancer patients, and they found similar benefits. In fact, they discovered that those who used imagery to cope with their disease experienced significantly reduced stress levels, and more energy than those who did not use the technique.
In addition to these studies, there have been many other examples of successful testing from using imagery to reduce stress levels in patients suffering from PTSD, depression, and other stress-inducing conditions, including occupational and mental stress.
The following 7 GIFs utilize several different techniques that combat stress in our bodies, including visualization and imagery, abdominal breathing, and even colour-specific exercises.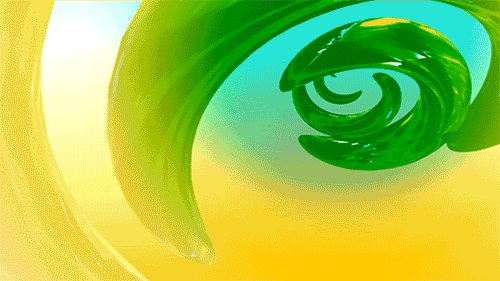 Besides bookmarking this post and watching these GIFs whenever you feel the need arise, there are other things you can do for your home or office space that can also help.
Increase the amount of green spaces in your area to induce a sense of calm. A study published in the journal Landscape and Urban Planning found that "people's stress levels are directly related to the amount of green space in their direct surroundings.  The more green space surrounds them the less stressed a person is likely to be."
And don't forget the aquarium! The Washington Post recently reported on the beneficial effects of watching fish in an aquarium. As they stated, "Scientists at the National Marine Aquarium recently had the chance to study how one of its larger exhibits was affecting people while it was being slowly restocked with new fish."
"They studied physiological effects the tank had on people as they looked at it, and discovered that as more fish were added, heart rates and blood pressure dropped," the report discovered.
"Even watching a normal tank — the light and the movement of the artificial seaweed — was quite relaxing for people," said lead researcher at the National Aquarium, Deborah Cracknell. "But when we added fish, it definitely did make a difference."
By Raven Fon